Wisdom Teeth Removal in Lancaster & Palmdale, CA
If your developing wisdom teeth are causing pain, discomfort, or swelling, you should visit Dr. Jeffrey Stein in Lancaster for a proper diagnosis to determine whether or not they should be extracted.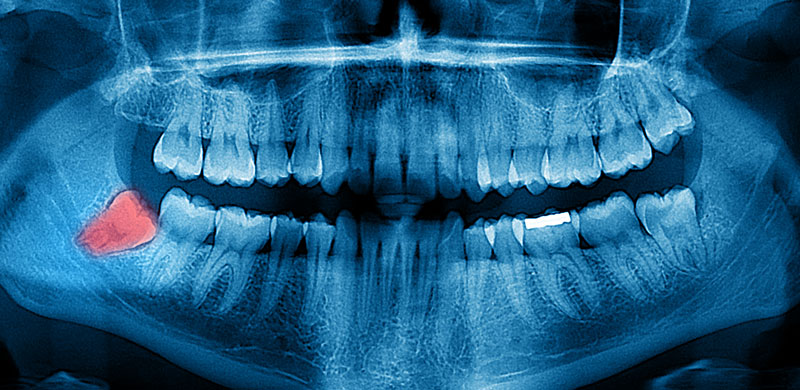 Wisdom Tooth Extraction
If your wisdom teeth are impacted, it is recommended that you remove all four of them at once, which will definitely be tough on you. You can also remove only one troublesome tooth. But keep in mind that failing to remove teeth that are growing in at an angle can cause them to be trapped within your jawbone, resulting in pain and a myriad of complications that may require additional treatment.

Before extracting the teeth, Dr. Stein will do an x-ray to observe the position and condition of your wisdom teeth underneath the gums. When ready for the extraction, a local anesthesia will be administered to numb the area and make the process completely painless. If you're anxious about the procedure, the dentist may sedate you to help you relax or completely knock you out with general anesthesia so you wake up after the teeth removal is complete.

Dr. Stein will use special instruments to loosen the teeth and disconnect them from the tissue before popping them out. Depending on your case, some teeth may need to be divided into smaller sections for easier removal. Afterwards, the surgical site may be stitched up and a gauze put over the space to promote clotting and wound healing.
"Our goal is to treat you with the best quality care to ensure your dental needs and oral health."
Jeffrey H. Stein, DDS, FAGD
---
Make An Appointment Today!
Wisdom Teeth Removal Recovery
Although the idea of removing one or more teeth at the same time seems unpleasant, the process is completely painless since you will be numbed and/or sedated. You will need someone to drive you home.

After the procedure, you will experience some pain and swelling. The severity of pain and discomfort largely depends on the number of teeth extracted and how impacted they were. The gums at the site of surgery will be sore for several days. Dr. Stein will give you some pain medication and drugs to prevent infection. You may also need to stick to a soft foods diet and stay hydrated to avoid injuring the healing sockets or causing them to dry.

Keep in mind that dry sockets are the most common complication following tooth removal. It is extremely painful, so make sure that you stay hydrated and follow Dr. Stein's instructions.

Troublesome wisdom teeth can be extracted at any age, but delaying the process can make removal more troublesome and recovery much slower. If you're in Lancaster, please schedule an appointment with Dr. Stein to discuss more about wisdom teeth extraction and recovery.
Been going to Dr Stein for 26 years, and I don't think that you will find a kinder, gentler, caring and understanding dentist any where. The office staff and all personal are way above average. I have and will continue to recommend Dr Stein.
Joe M. via RateABiz